In my capacity as Secretary of Nursing it was impawtent fur me to keeps da participants of da race as well as dere coaches in tip top condition dat day.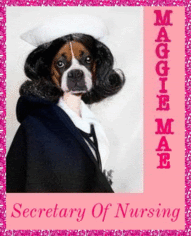 Being well hydrated was at da top of da list....
...followed by da foodables needed to gives dem da energies dey needed to compete and coach in dis strenuous race!
After da race we all kicked up our paws in a celebration dance!
Personalize funny videos and birthday
eCards
at JibJab!
It wuz a great day!
Now I am off to da banquet to honor all of dems.
Dis is what I am bringin' to eats today!
(plus da leftover cheetos and beer!)
You can gets more of dems here at
Never Spoiled Just Well Loved!
See you at da Banquet!
Puddles is pickin' me ups in her PINTO, so I am arrivin' in style!
Woofs and Licks,
Maggie Mae
PeeS Don't furgets 'bout da auction fur Richie and Ronnii!