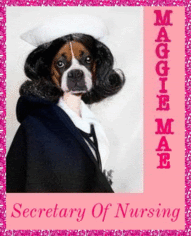 Da big Blogville Back to School Weekend Bash is here!
I am very busy getting ready fur it by stocking up on all da supplies and help I will need to be fully prepared while on duty at the
Emergency Medical Tent!
Da tent is set up...
Even da portable Emergency Kit is well stocked...
...wif all da needed supplies!
Extra needed supplies line the interior of the medical tent too!
I have changed into my professional work clothes...
...and
Archie and Reggie have volunteered to pitch in and help me too!
So everybuddy have fun dis weekend but be very careful cuz I do not want to see anybuddy get hurt!
Woofs and Licks,
Maggie Mae
PeeS Da tent will be up and running all weekend so stop by anytime but if you don't see much of me during the bash don't worry I am faithfully on duty but my typist aka mom may be with a volunteer group from her church who are helping wif da Irene cleanup in parts of New York and Vermont.